As the planet successfully navigates another cycle around our celestial benefactor, it is only natural to contemplate the events of the past year with the benefit of hindsight, no? In 2021, we saw the great Commonwealth of Virginia legalize recreational cannabis sales before either Maryland or DC managed to do so, which I did not see coming. Did you? That's crazy, man. We had a glimmer of hope that Washington's time had finally come, but that possibility has been postponed to February and looking, uh, 50/50 at a generous guess.
Speaking of! It was amazing to see how the community came together when DC Council Chairman Mendelson suddenly threatened to extinguish I71 businesses right before Halloween. It's become apparent to me that this industry has matured in the five- FIVE- years that Congress has blocked the city from creating a licensed cannabis market. It's not like when we showed up to hearings years ago and shoved our feet down our own throats with good intentions, but little experience. Today's group is organized and savvy. They know how to play the game and they're not going anywhere without a fight.
That being the case, it's high time we handed out some awards to our favorite storefronts, delivery services, I-71 innovators and the medical marijuana market alike, cuz we've been around a while and have, like, opinions, man. Some of them may even be valid. So with no further ado, welcome to the inaugural Gentleman's Best of DC Weed Awards! Should we call them the Tokies for short? Yes, we shall. Drum roll please! 2021's Tokies go to…
Best I-71 Storefront

Gifted has a fantastic vibe. It's the first storefront I found in DC that reminded me of West Coast dispensaries, with their enthralling collection of street art bathed in bright white light, hip-hop playing over the speakers all day, and most importantly, their interminably happy, upbeat staff. If you told me this space was the magnum opus of some ancient, dragon-blooded Feng Shui master, I wouldn't raise an eyebrow.
Gifted Curators consistently offers cannabis gifts of sterling quality, and that's my last point here- they only carry flowers, pre-rolls, and edibles. You won't find any vapes or concentrate at Gifted, which means they're kicking all this ass with one hand tied behind their back. Their website is intuitive, regularly updated, and the online order system works perfectly. If this were a public poll, you'd end up with the same result. The reviews you'll find on social media for Gifted Curators' gorgeous Adams Morgan shop are positively gushing with praise.

The Garden easily earns second place in my estimation, as it has some demonstrable benefits over other I-71 storefronts. For one, they've got a large parking lot and commuter-friendly location along New Jersey Ave. Considering how difficult it can be to find parking in popular areas of DC, this gives them an enormous advantage in convenience. They have a laudable donation system where customers can choose from four different charities to support. The building's exterior has been thoroughly, beautifully designed with a mix of natural elements and a gorgeous piece from Washington's most prominent muralist, Aniekan Udofia. Add a friendly staff to assist you with their wide selection of premium cannabis gifts and the line out the door every weekend comes at no surprise.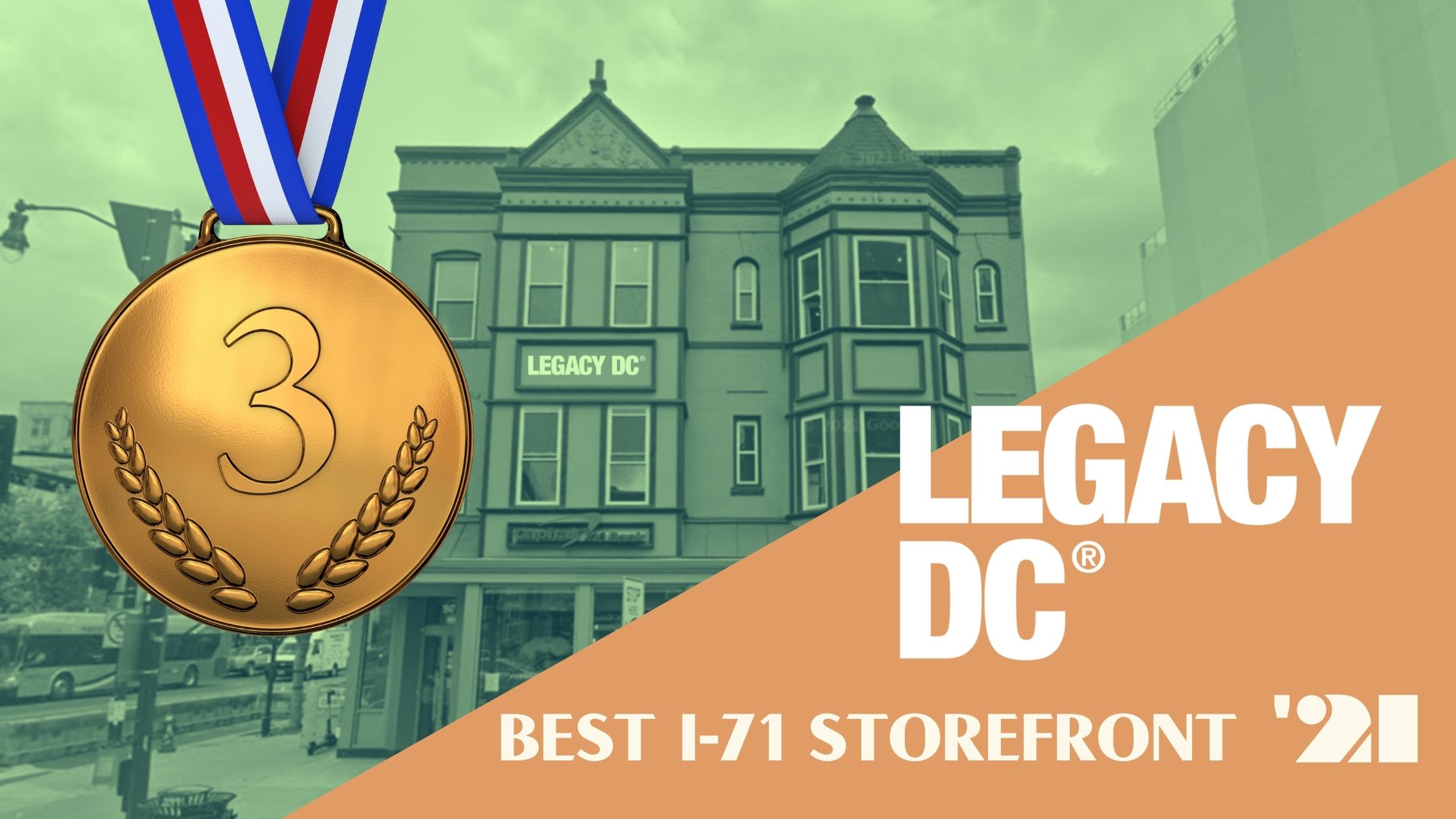 Legacy is new to the scene, having only opened in September, but should be on everybody's radar by now. Conveniently located to two Metro stations at the corner of 14th & U, this art gallery honors DC's history from the streets and culture perspective, with photos of old neighborhood record shops and graffitied tunnels next to a poster for Mr. T's DC Cab movie, across from their hip-hop vinyl collection. The lobby is spacious and inviting, I'm personally appreciative of their commitment to only provide flower, preroll, and edibles gifts in the current market climate, all of which are extremely competitive in quality with longer-established shops. Legacy is well worth a visit next time you're around the Columbia Heights neighborhood.
I-71 Storefront Honorable Mentions
No Kids Allowed is a hip store on Pennsylvania Ave in Eastern Market. This black woman-owned shop features a fantastic menu of gifts, awesome apparel, and their walls have also been graced by the inimitable Aniekan Udofia.
I used to live out by Tenleytown and remember how disconnected it felt from the rest of the city that far north, where travel even by car can take an inordinate amount of time. Having a high-quality store like Top Level in the neighborhood is a godsend for residents traffic-locked by Massachusetts Ave.
Best I-71 Delivery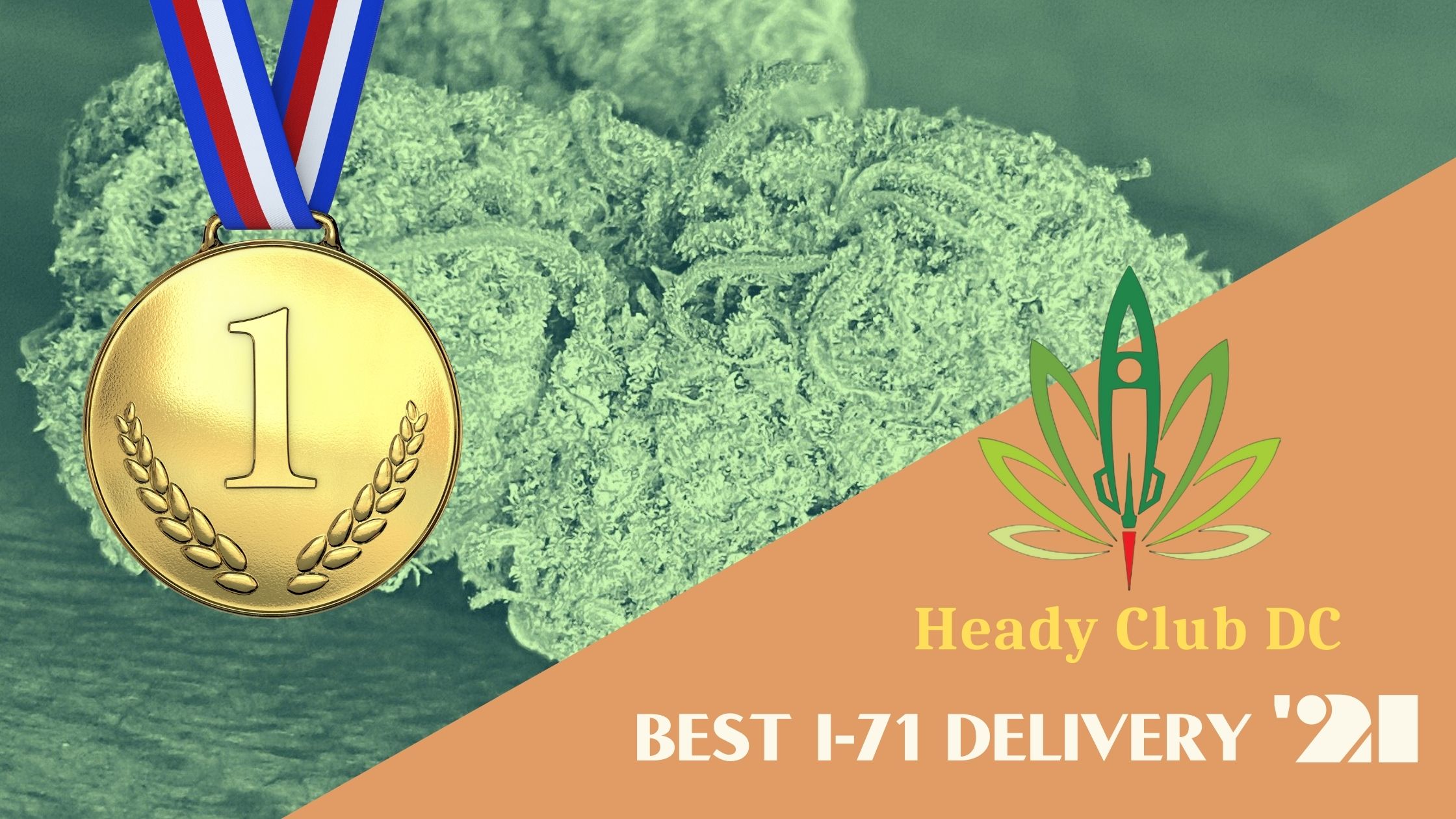 Heady Club stands out as my favorite I71 delivery service for one simple reason- their flower gifts are grown by one of my favorite local growers. If you're looking for fresh, aromatic ganja glistening with trichomes at a very fair value, this is the spot. Never complacent, they offer a mix of dialed-in menu mainstays like MAC 1 and Purple Punch alongside cutting edge genetics like Runtz Cake. They even keep a few CBD flowers in stock! Their pre-rolls are Made to Order from any strain on the menu, they've got a great selection of concentrates, and their site is simple and straightforward to use. And of course, you can expect friendly, professional service from the staff at Heady Club.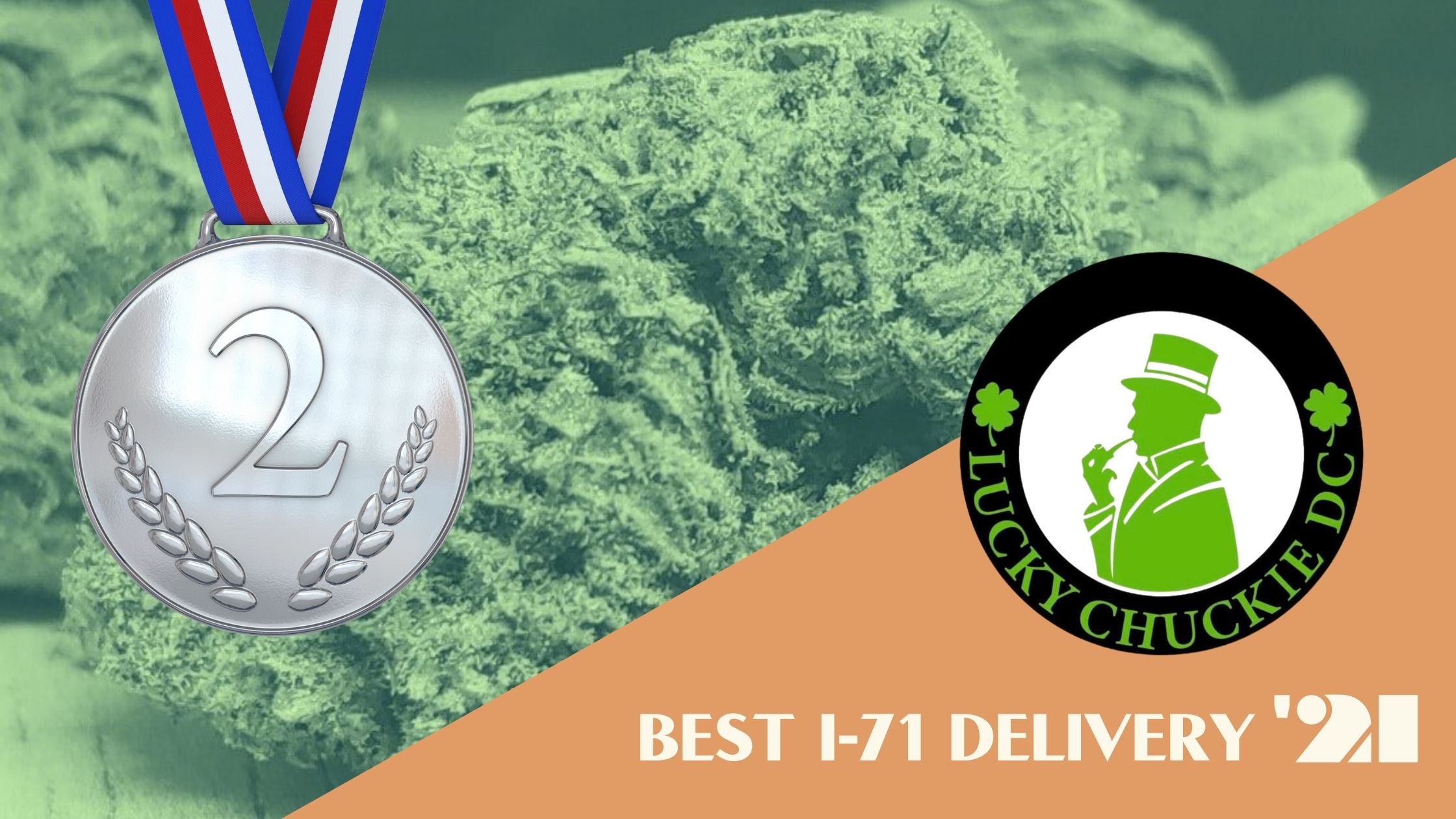 Lucky Chuckie cruises into second on the strength of their edibles menu, which features collaborations with some of my favorite local bakers that adamantly use flower instead of distillate to infuse their culinary creations. Distillate has become the industry standard for fair reasons, but its effects pale in comparison to the vibrant, organic high of flower-infused treats. They do have some distillate-based candies on the menu if that's more your speed. Don't sleep on their flower menu, either! You'll find an extensive list of exotic genetics, like those amazing Oreoz that I reviewed early this year, with a few classics like Agent Orange thrown in for good measure. The new website makes browsing the menu and placing an order a breeze.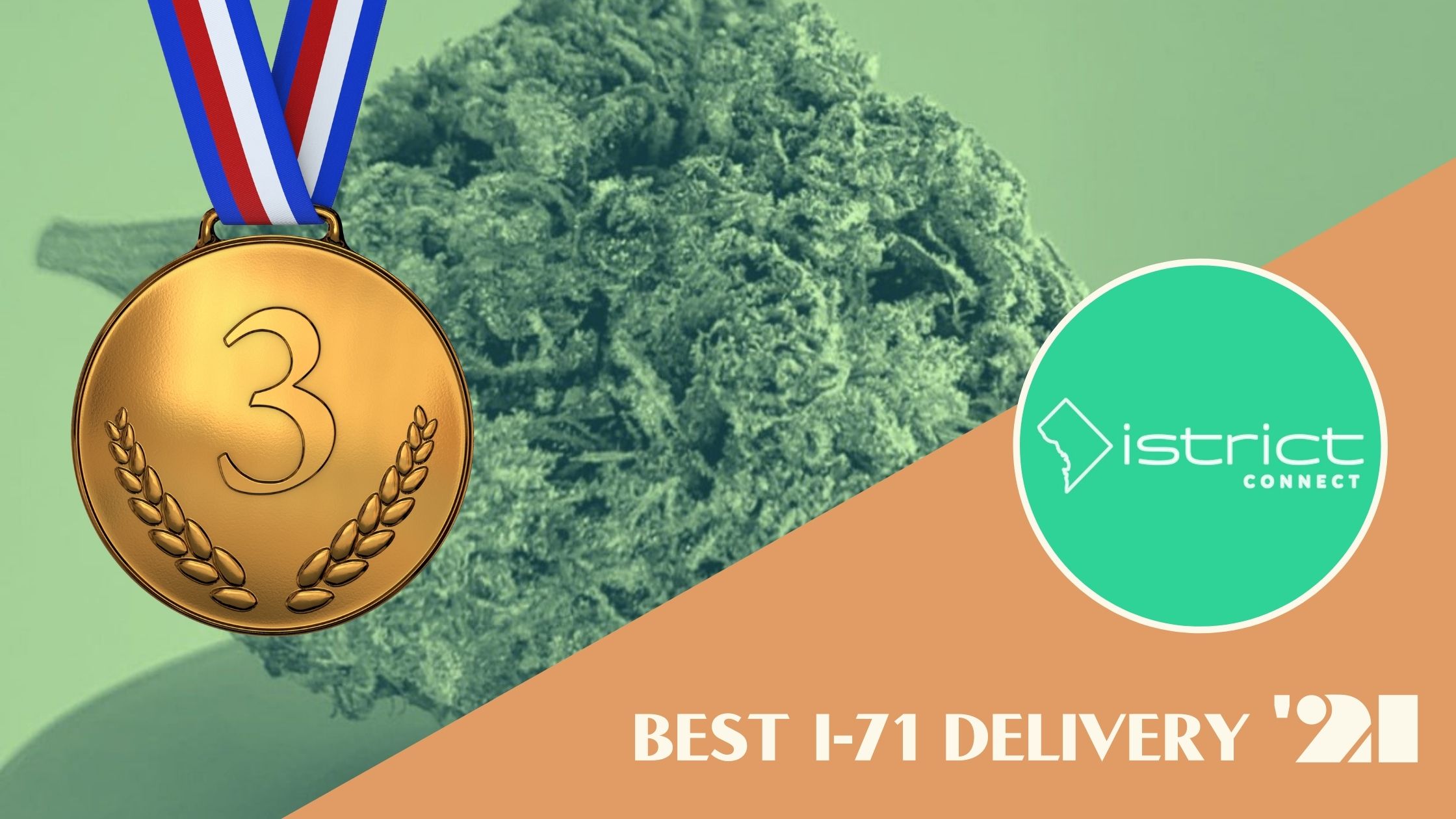 District Connect is the definition of a well-oiled machine. Their website is the envy of other I-71 delivery services- perfectly organized, full shopping cart checkout functionality, and packed with alluring gift photos. Their flower selection runs the gamut of jaw-dropping specials and highly sought strains, like the French Toast we reviewed earlier this year. Their delivery is quick, efficient, and they do a great job communicating when your order will arrive. Your gifts then arrive in discreet packaging with a receipt of your order attached, an impressive touch.
I-71 Delivery Honorable Mentions
Fat Budz has a sleek website with a wide selection of high quality strains (like the Animal Mints we reviewed here), regular specials, and locally crafted CO2 cartridges. Expect a quick, hassle-free delivery.
I'd be remiss not to bring up Natural Vibes here, since they had one of the best strains the Toker team reviewed in 2021, their MAC 1, plus CO2 cartridges made right here in DC. Top shelf gifts from a top notch team, what more can you ask for?
Hottest Gear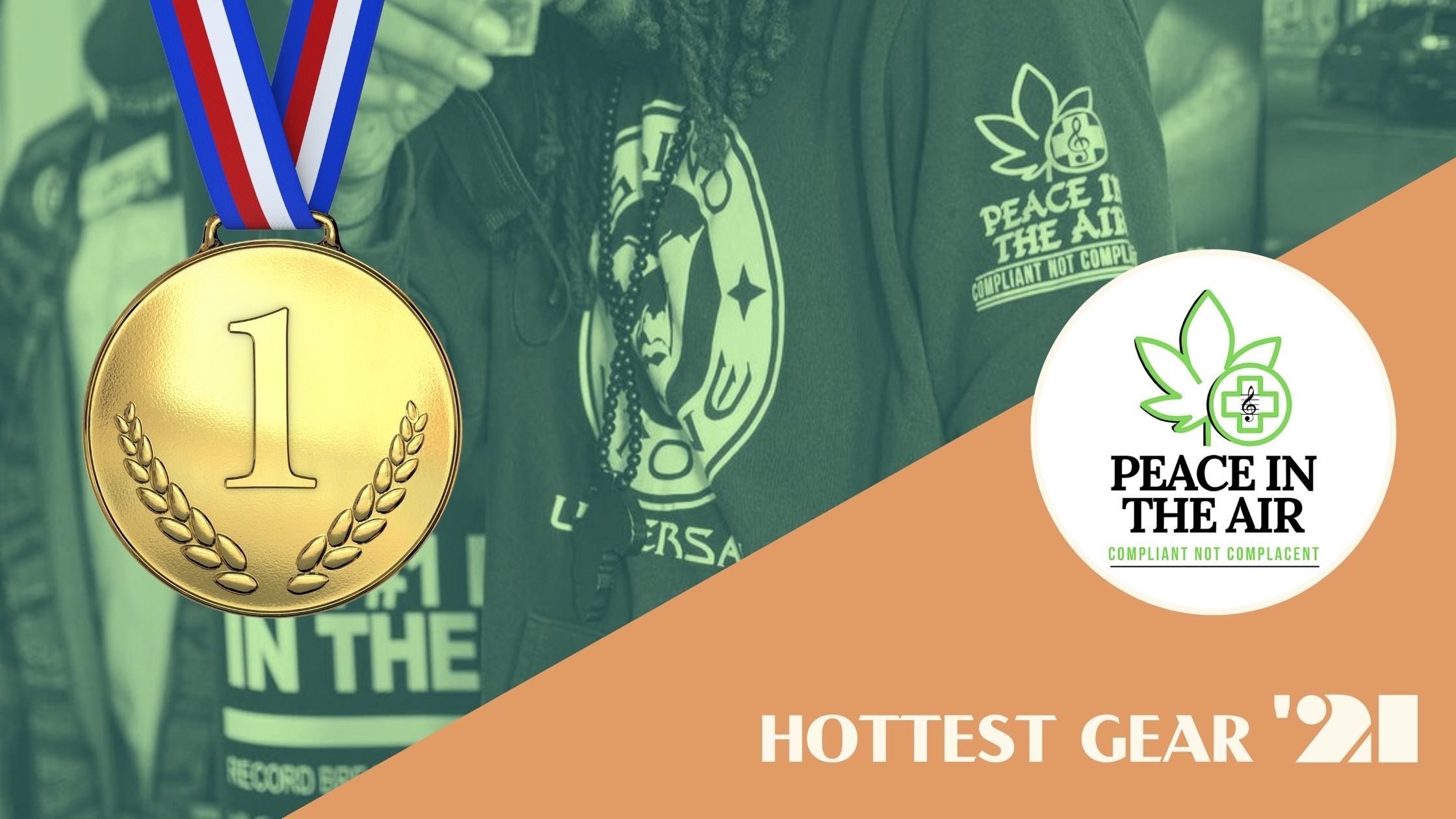 A lot of apparel brands have launched under the auspices of I-71, but in the Gentleman's opinion, the Grindstone gear available at the Peace in the Air storefront is on another level. They offer an extensive selection of hoodies, tees, hats, outerwear, and more for every gender. Their designs are fresh, bold, and free of cannabis references, so you can flaunt your hipness to the game in a most inconspicuous fashion. And those hoodies and jackets are plush AF, the high quality of the materials is obvious at a glance even to dorks like yours truly. The fact that you can get great weed gifts while you're there is just icing on the delicious cake that will be you, rocking your Grindstone gear down 18th Street with the confidence of a BeeGee.
Best I-71 Store Concept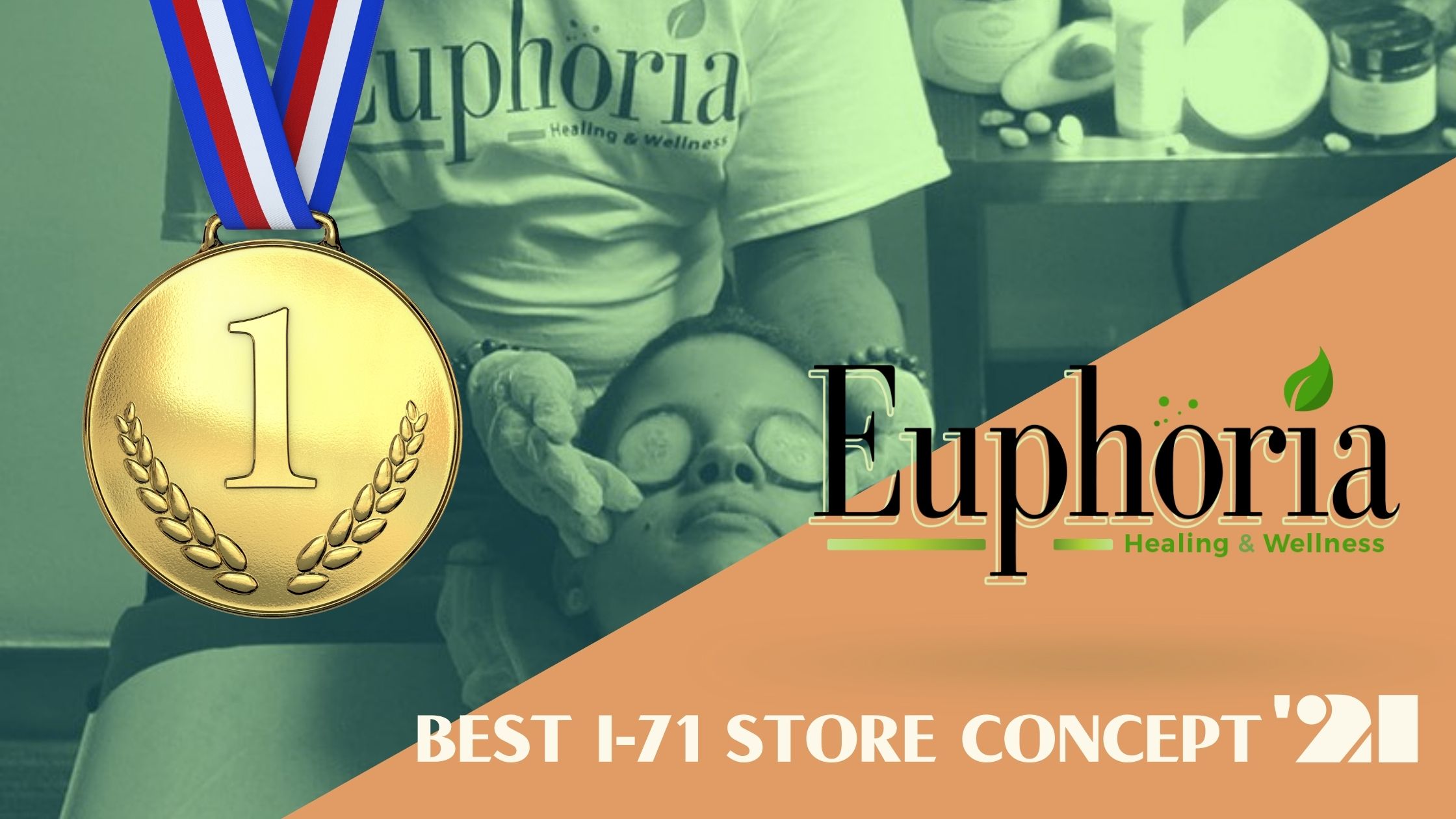 Euphoria is one of my favorite finds from 2021. This I-71 Storefront offers several services that are all performed at a high level. First, Euphoria is a professional massage spa that incorporates CBD topical lotion to maximize effectiveness of their long menu of treatment options. You might have caught my review of it from earlier this year, or got to experience one yourself at this year's National Cannabis Festival. They also offer personal training at their on-site gym from serious athletes, including boxing taught by former USA Jr. Middle-Weight Champion of the World, Purcell "Hardcore" Miller. Finally, they offer an upscale event experience from their Eastern Market location that you can book for any special occasion, personal or professional. They even hosted a 420-friendly wedding earlier this year. Plus, ICYMI, you can get weed gifts there too!
Most Original I-71 Concept

In a market where any good idea is copycatted ad nauseum, this award goes to the I-71 service with the most original and innovative approach to complying with DC's strange weed laws. In 2021, it belongs to Logan Circle storefront Hidden Gym. These folks want to pump - and puff - you up, if you'll forgive a very dated SNL reference, by selling you the fitness plans they've formulated and hooking you up with a bag of dank as a free thank you gift for trying out their service. The shop incorporates the theme even further with a fun locker room aesthetic. What a fantastic new way to serve a fitness-forward kind of city like Washington DC! Mine will probably just say to cut back on all the craft IPAs, which of course I will ignore, because beer is delicious and life is short, but I do enjoy the fantasy of getting in shape. I'm gonna be so ripped one day, you're gonna be so jelly! But not tomorrow. Or before the holidays are over.

Best CBD Store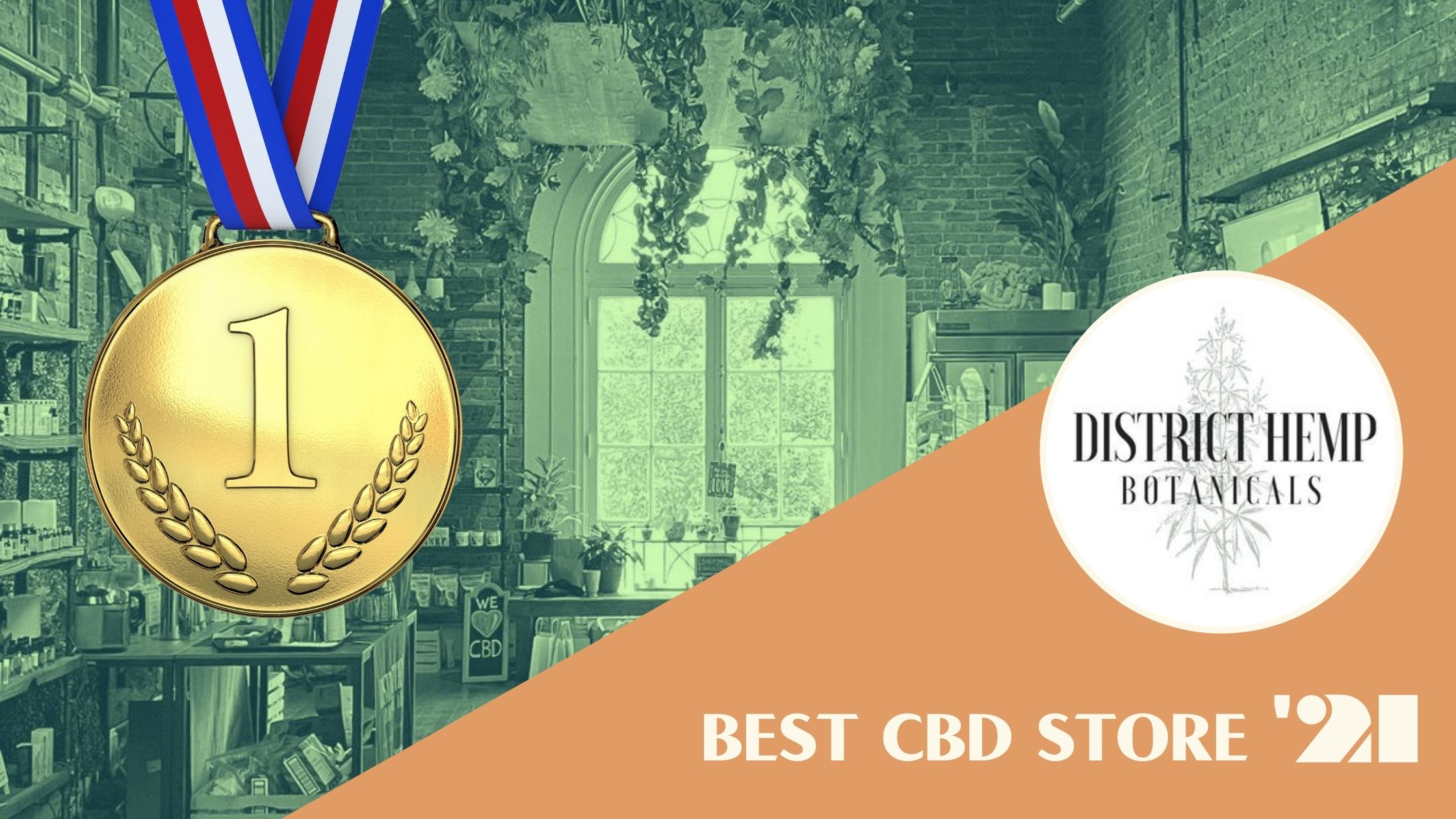 District Hemp's stunning Dupont Circle location strikes a delicate balance between lavish, minimalist, and natural decor. Awash in light and plants, the boutique atmosphere District Hemp has cultivated is unmatched across the city, all the more impressive for how incredibly spacious my favorite CBD store is. The peaceful vibe is complimented by a friendly, knowledgeable staff and a staggeringly large selection of hemp product types, including flower and their own in-house lines of tinctures, topical, and concentrates. The Gentleman is particularly fond of the CBD coffee they carry, which provides the energy and focus I need and expect without the accompanying jitters. The dark roast tastes pretty good, too.
Best Head Shop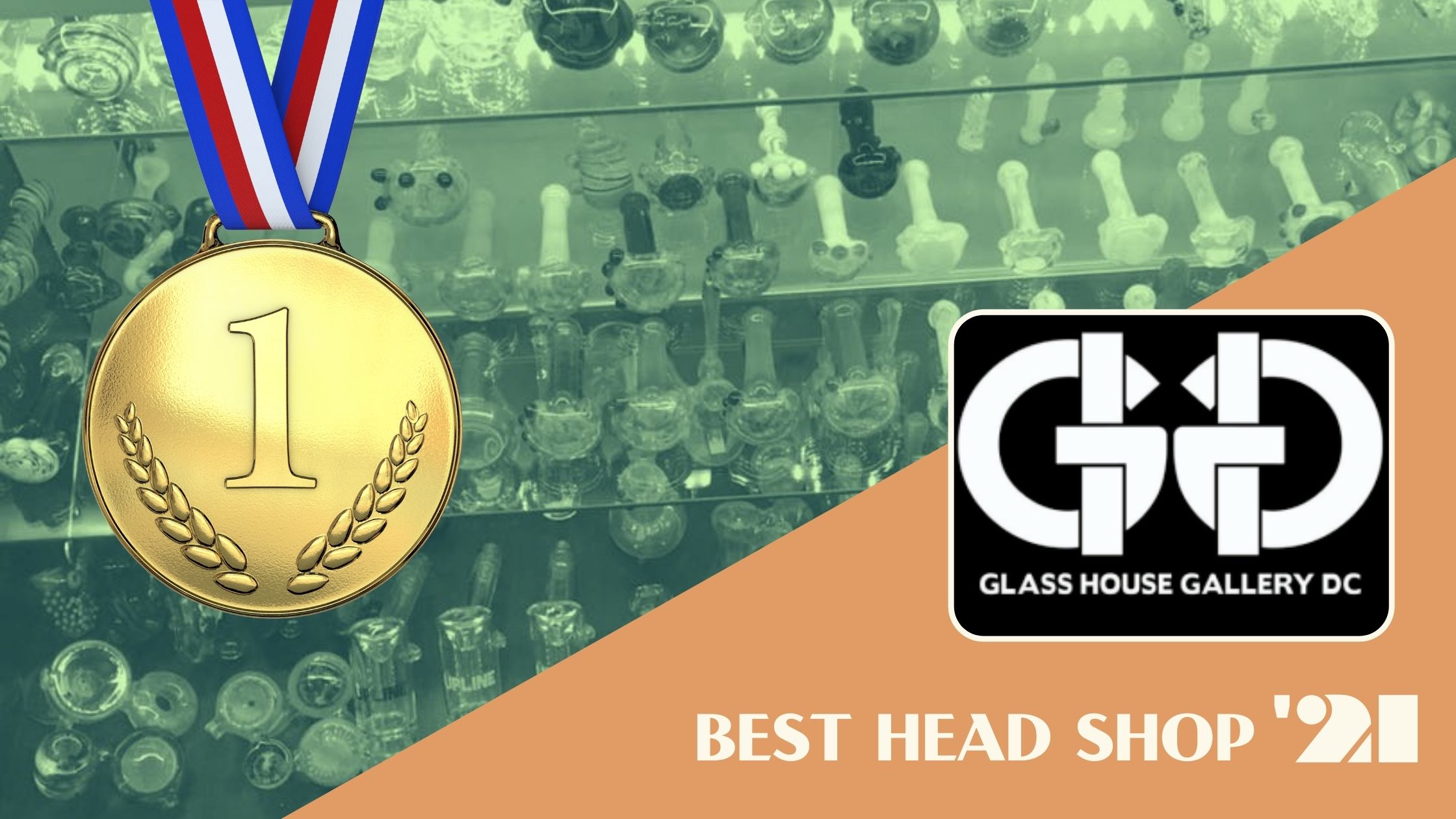 There is no shortage of places to pick up a pipe and rolling papers in DC, including many of the I-71 storefronts themselves. So why go to a separate head shop? In the case of Glasshouse Gallery, the answer is simple- they're the best place to find bongs and rigs that are as much about form as function. Featuring the work of the hottest names in glass blowing from across the East Coast, Glasshouse Gallery sells transcendent, psychedelic art that, incidentally, you can smoke out of. If you want fine American glass to smoke from- and I highly recommend that you ditch the cheaply produced, widely available Chinese-made glass products to do so- then go to Glasshouse Gallery. At the high end of size and intricacy, the price for these delicate pieces dictate that you'd have to be insane to actually smoke out of them. THEY BELONG IN A MUSEUM! Or, y'know, on your shelf at home to admire.
Best DC Weed Tour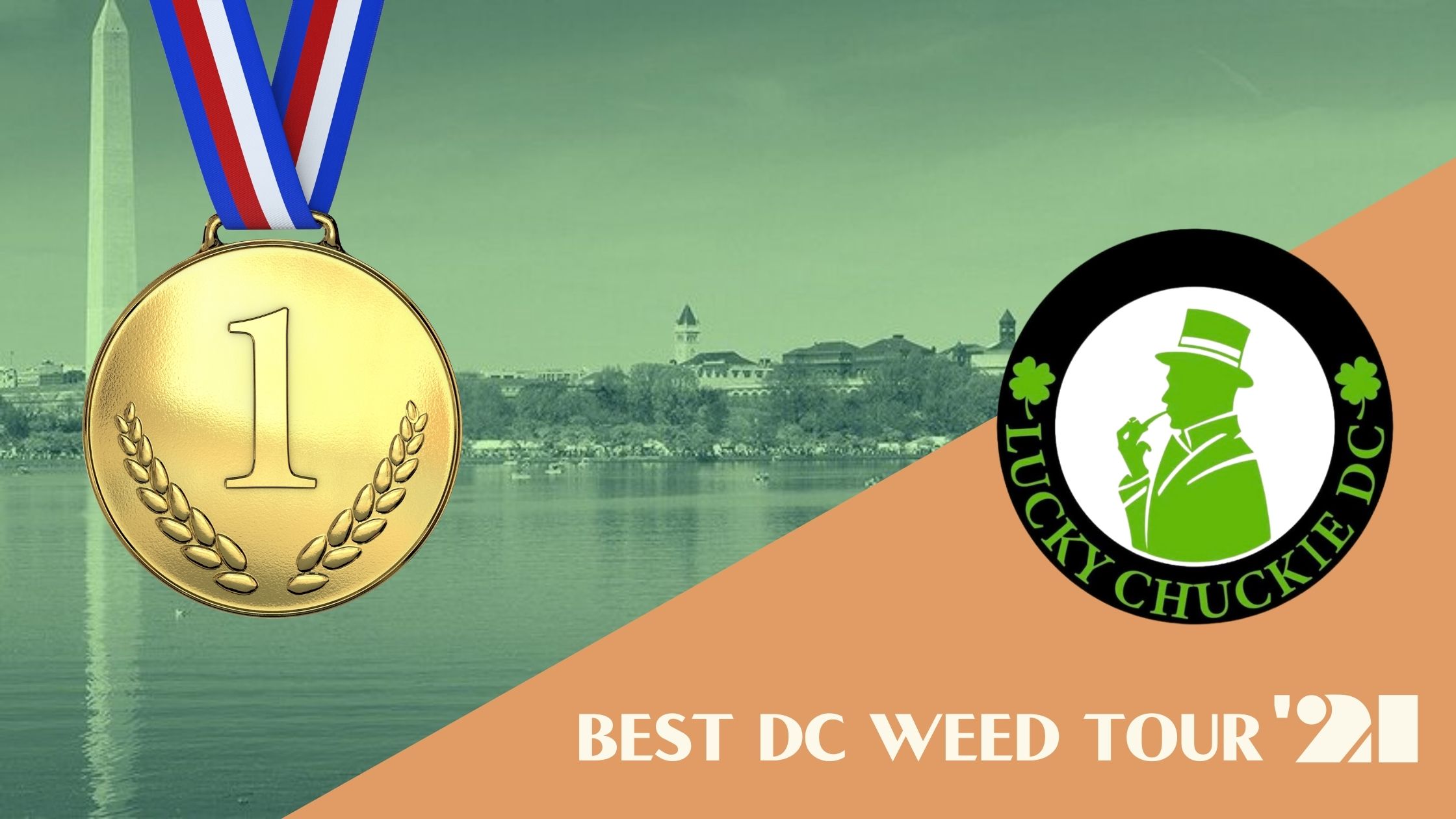 I really enjoyed my trip with Lucky Chuckie Tours this year. Whether you're only visiting our fair city or a long-time resident that has neglected to visit the National Mall in a while, it's well worth your time to take a ride with Lucky Chuckie. For starters, they'll give you some flower-infused edibles and a massive blunt to smoke during the tour, which lasts around an hour for the basic package. Speaking of packages! Lucky Chuckie is happy to build a tour to your exact specifications, so you are not limited in any way to what sights you'll see in DC. I found their guides to be especially insightful about local events and places I might want to explore on my own. If you're looking for even more cannabis gifts, no worries! Lucky Chuckie Tours offers a menu of gifts to check out when you join the tour and a pitstop at the end to pick up your order.
Best DC Weed Tour Honorable Mention
If you're looking for a richly informative tour led by a professional, experienced guide, the Gentleman suggests you check out Elevated Tours. Every trip with Elevated begins with a smoke session in their charming lounge before you see the monuments. The tour ends, if you wish, with a trip to their Glover Park I-71 storefront.
Most Convenient I-71 Delivery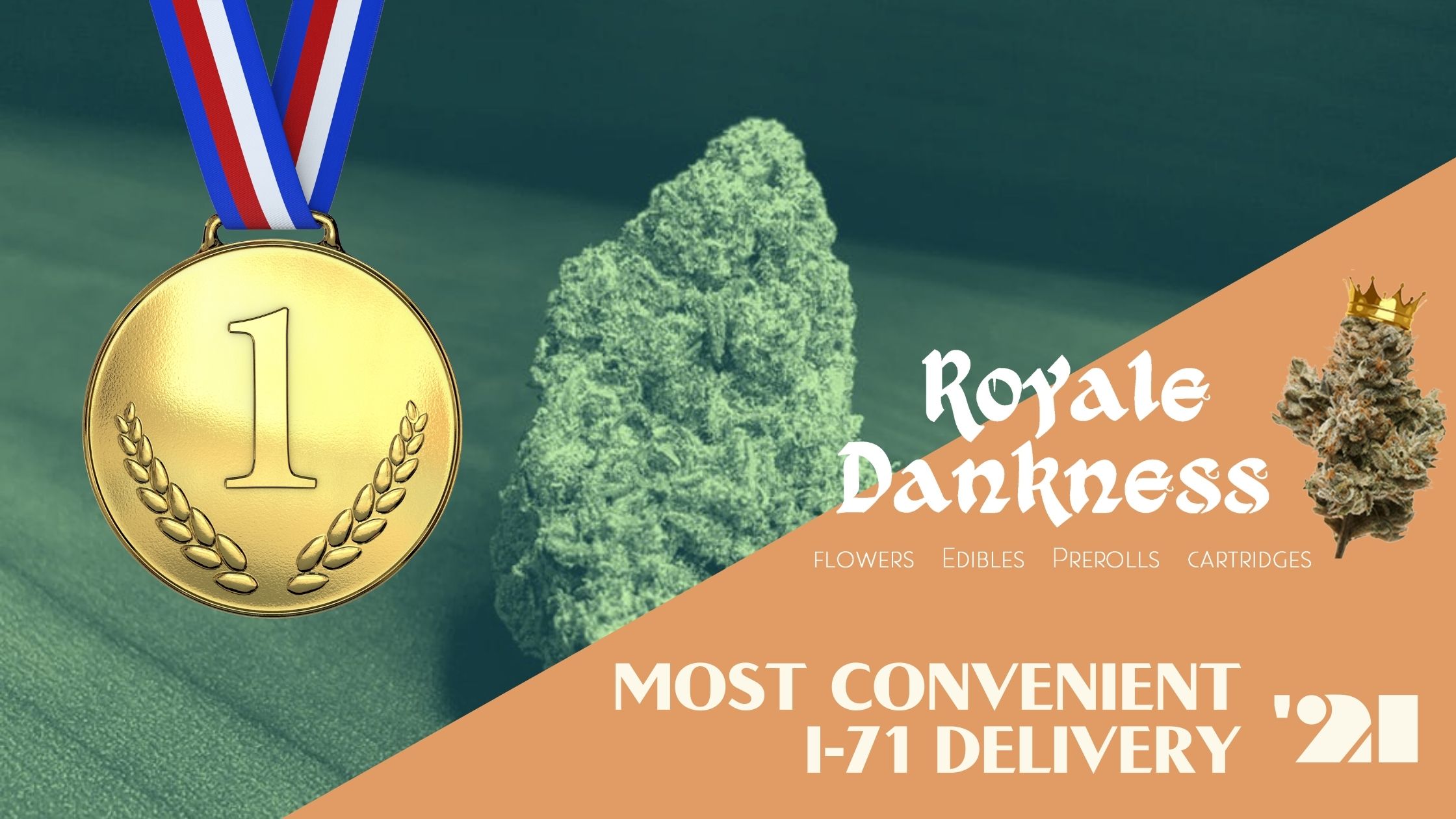 Some of the best I-71 Delivery services understand how valuable your time is and go the extra mile to make working with them an absolute breeze. In the case of Royale Dankness, we're not talking about technological bells and whistles, but a focus on the fundamentals- speed and reliability. These guys are so fast you start to wonder whether they employ a trio of Minority Report-style cannabis clairvoyants that have already foreseen your order and dispatched a driver. It doesn't hurt that their gift selection is excellent, with a wide range of value and exotic genetics to choose from, along with CO2 cartridges from DC's most trusted extract artisan.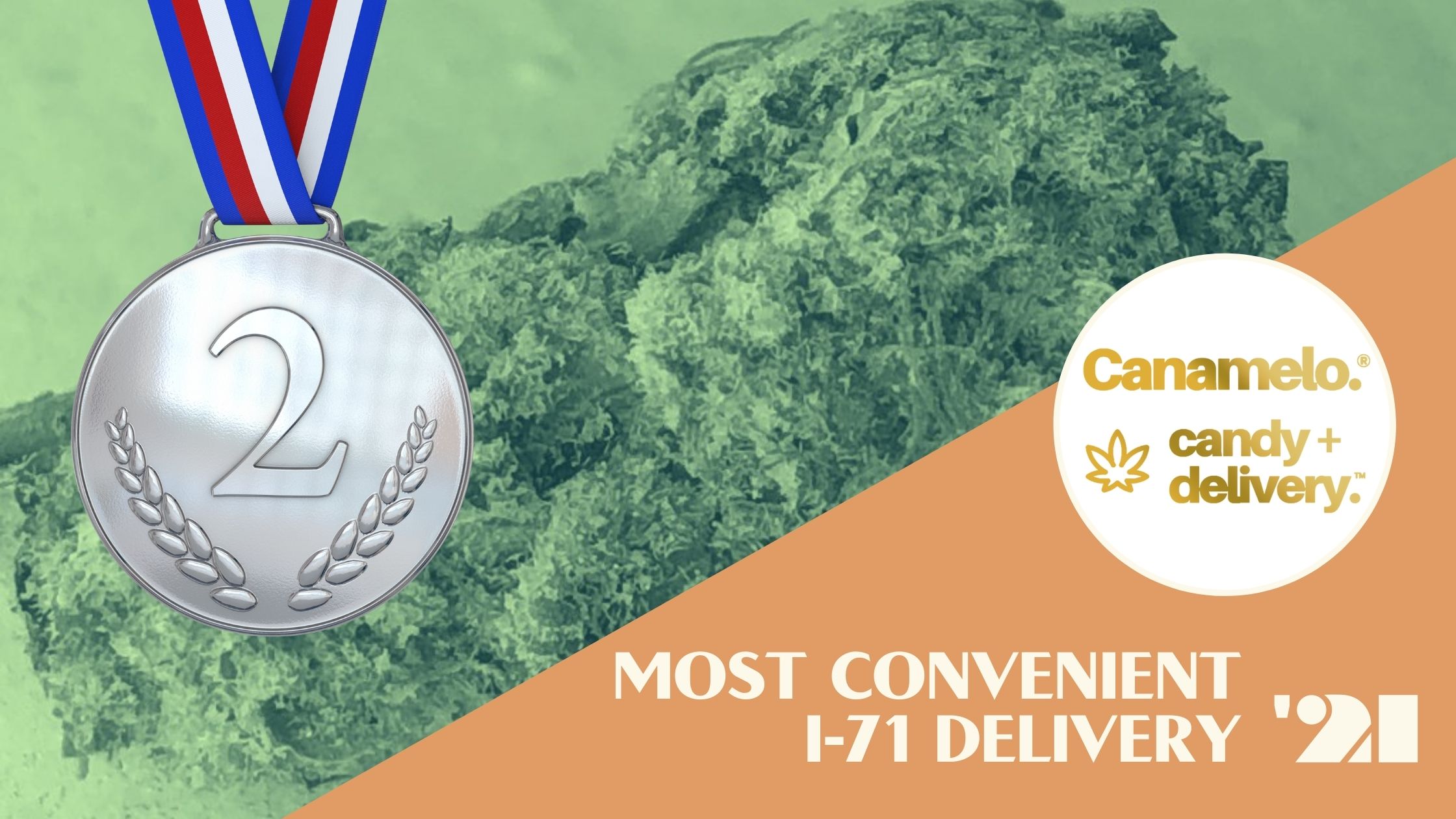 Canamelo's staying power among I-71 luminaries is easy to explain. Combine a menu of locally grown cannabis flower that focuses on quality instead of quantity, District-made edibles, and a transparent schedule system that allows you to pick a delivery window from the available time slots make ordering from Canamelo an absolute pleasure. If the delivery window you want is not available, they will still make every effort to accommodate you! Reliable as gravity, Canamelo continues to capture the hearts of cannabis enthusiasts across Washington.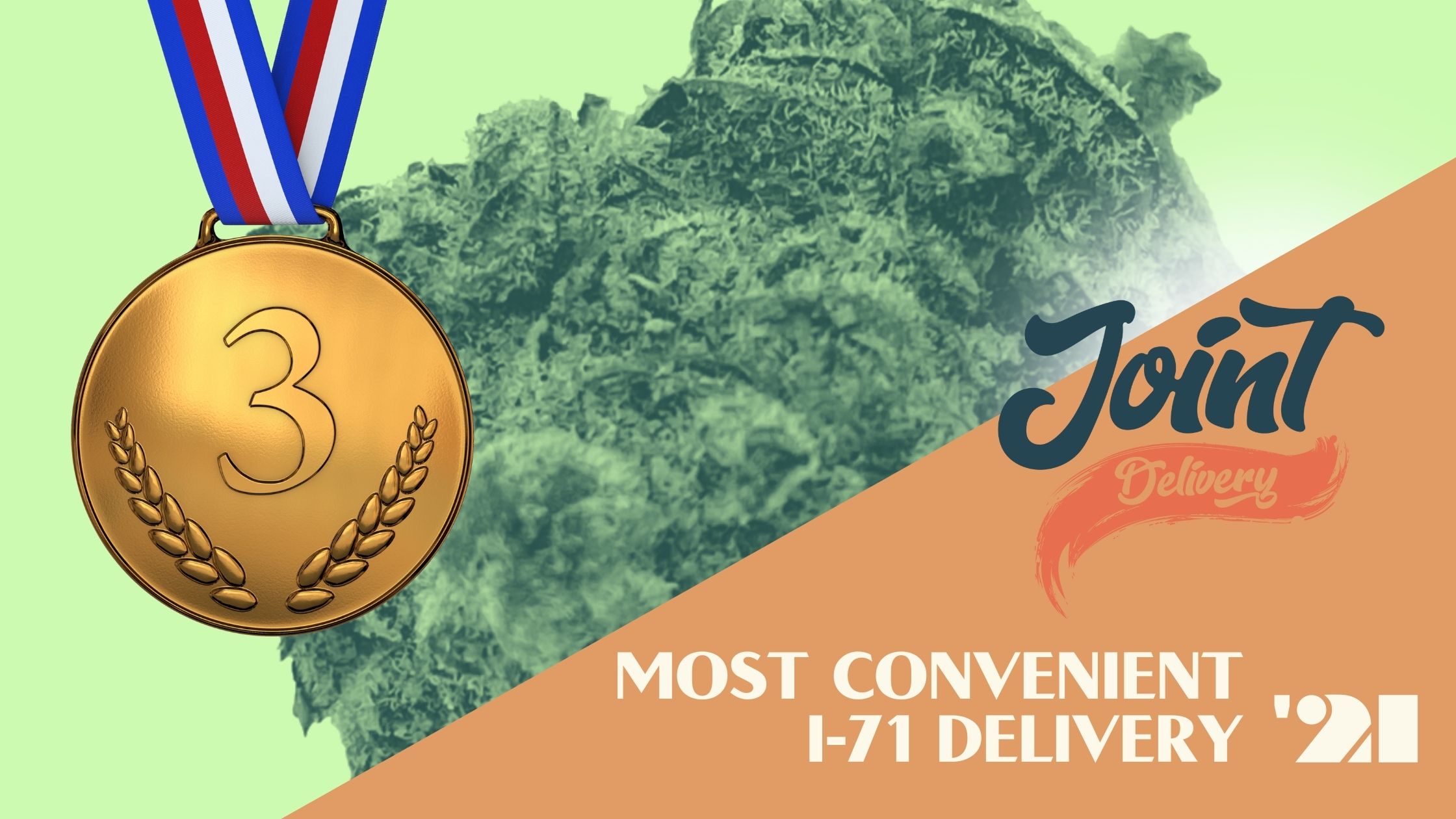 One of the Gentleman's pet peeves is not knowing how long it's going to take to get my order before I place it. There are a ton of I-71 delivery services to choose from and I'd rather not be locked into a single provider before I know how long it'll take, in case they're busier than usual. I don't want to negotiate with dispatch or limit my options next time I want to get some weed by cancelling my order halfway thru the process. Joint Delivery solves that issue by showing the delivery windows available and requiring you to choose before placing your order. Make sure to snag one that's at least an hour out from when you're placing your order and you're golden. Speaking of golden! Joint Delivery's cannabis gifts are always of such a consistently high caliber that your Gentleman was honored to collaborate on a strain that meets even my lofty expectations, the notorious Black Hat OG.
Best Local Edibles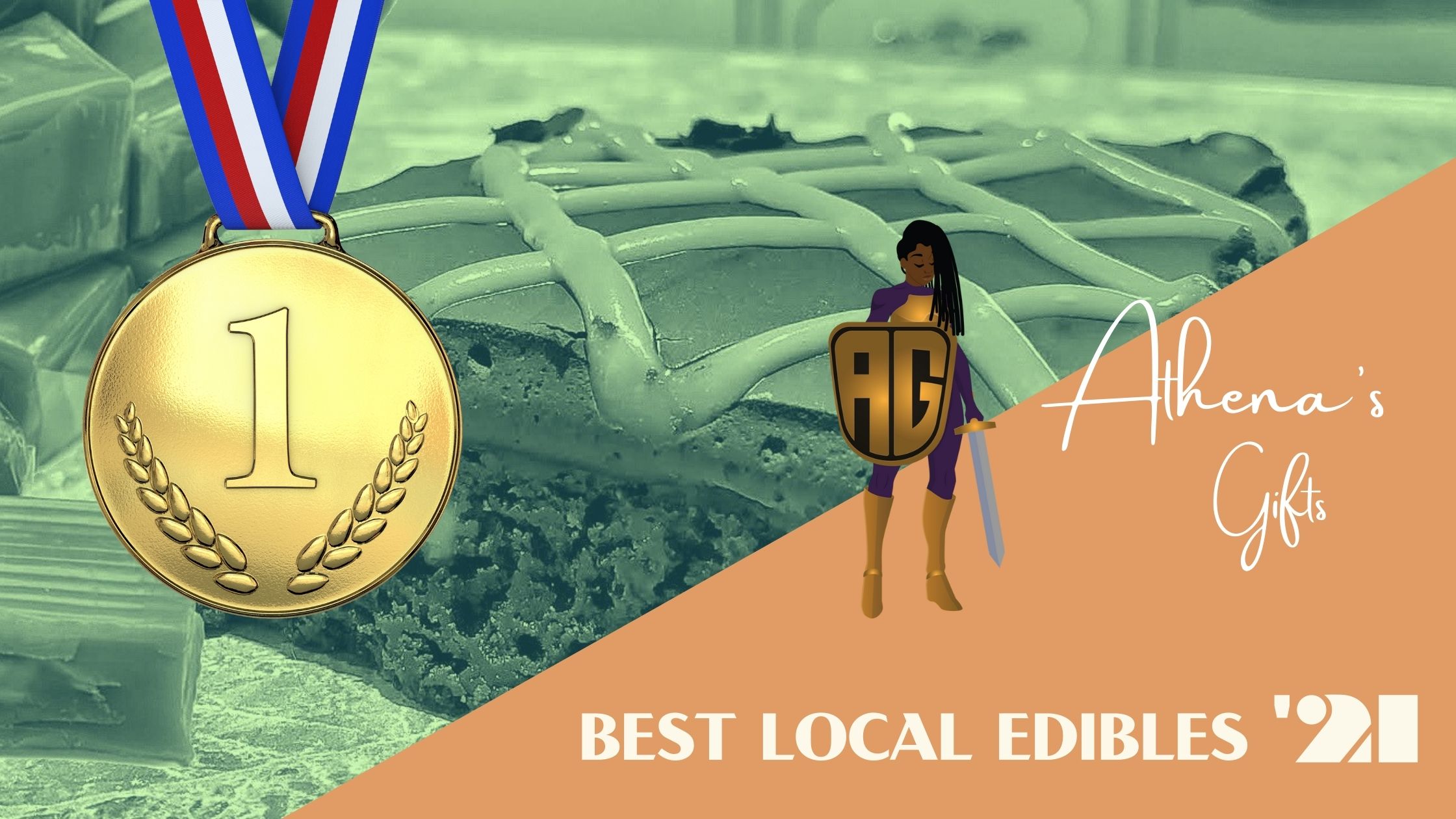 The Gentleman is proud to award Athena's Gifts as the best DC made edibles for a very simple reason- they use flower, not distillate. I totally get why the industry has moved on from flower, since it's so difficult to accurately dose, but in doing so, it has lost the heart of what made the words "weed brownie" so special in the first place. Flower infusion creates an uplifting, psychedelic high that simply can't be matched by distillate. If we take into account factors like variety, creativity, and flavor into our decision-making, Athena's Gifts handily checks those boxes as well with tasty treats like their Tie-Dye Cheesecake and Booty Call Brownie.
Best Local Edibles Honorable Mention
You've heard me raving about Puff Kings' THC + CBD edibles for over a year now, and I'm gonna play that song again here. Professionally crafted, intricately detailed, and undoubtedly potent, Puff Kings edibles are easily among the best in the city.
Strain Hunters Award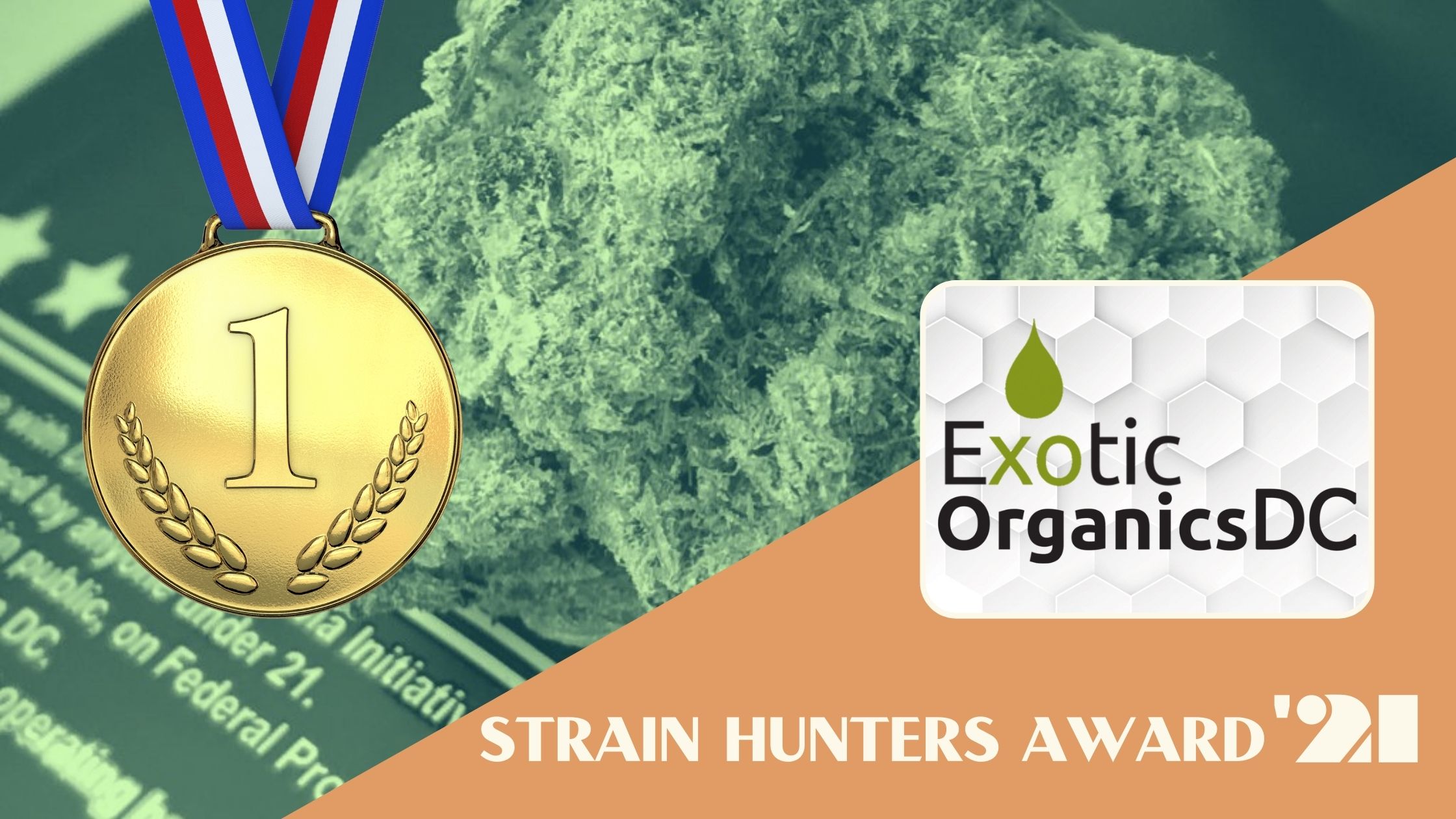 If you want to be the first on your block to smoke the latest genetics from brands like LAX, Backpack Boyz, and Cookies and want to get them at a very fair value compared to other I-71 services, check out Boutique & Branded flower menu from Exotic Organics. Already tired of Biscotti? How about LAX's Biscotti Pippen? Or Doscotti from Foreign Genetics? FYI, they've also got some of the best Gary Payton I've seen around recently. Exotic Organics takes great pride in regularly dropping the newest, hottest strains in DC, plus they've got an easy-to-use website and quick, professional delivery.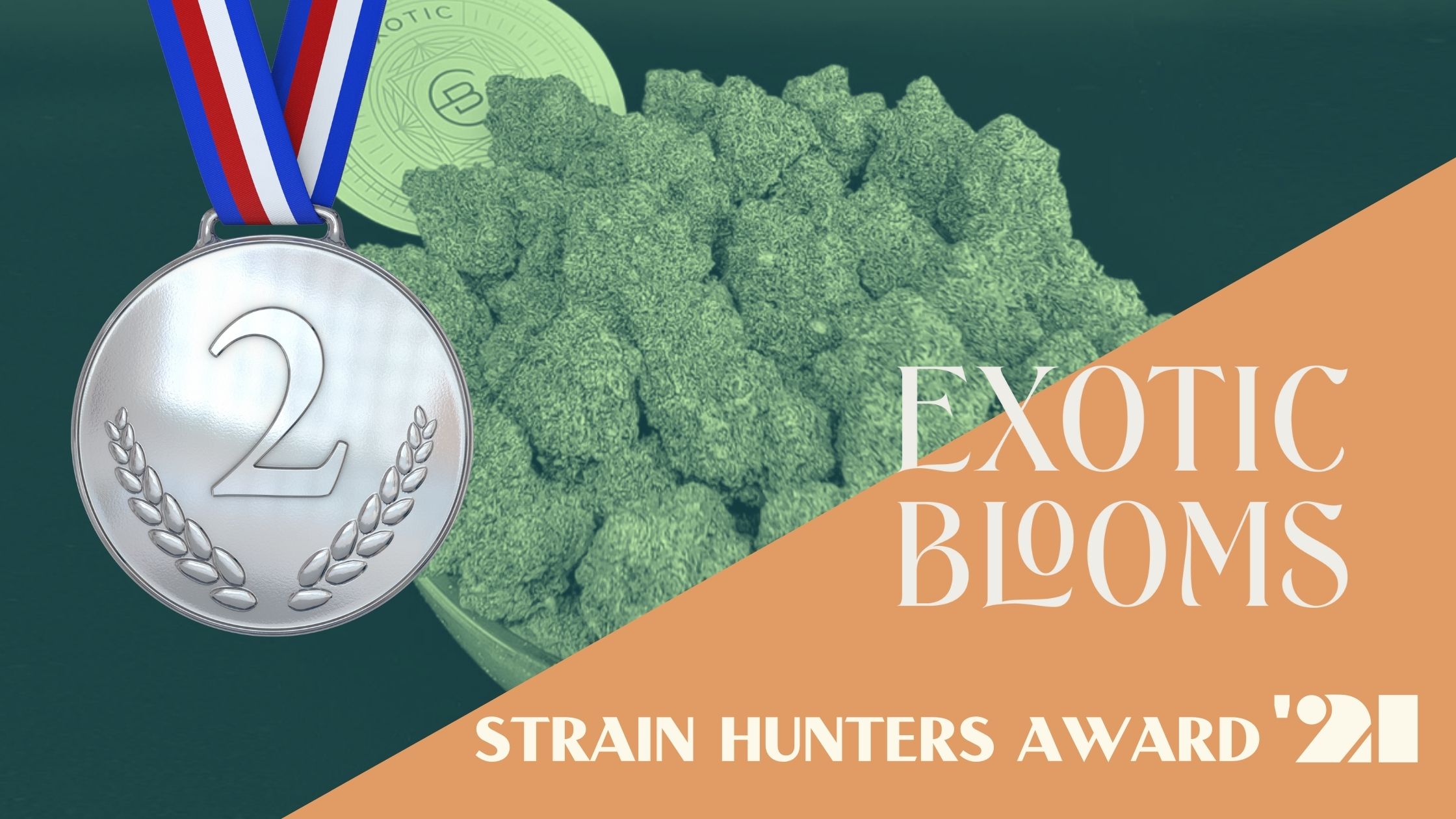 Exotic Blooms has distinguished themselves as one of the premier providers of exotic genetics in Washington DC. Connoisseurs in search of a specific, contemporary strain will likely find it among the immense selection spread across their Super-Rare, Exclusive Designer, and Private Reserve flower menus. Exotic Blooms has one of the broadest menus among I71 services period, a fully-functional shopping cart-based checkout system, professional customer service, and consistently delivers fat bags of superb quality.

If there's one person on here that loves smoking the finest herbs as much as you and I do, it's District Chiefer. Bag chasers will love the constantly-updated selection of designer strains at an excellent value available from this I-71 service, as will dab enthusiasts looking for premium extracts like Zugatti's Diamonds and Cold Cure Live Rosin. District Chiefer's site is simple, direct, and you can expect a smooth, speedy delivery.

Best Medical Dispensary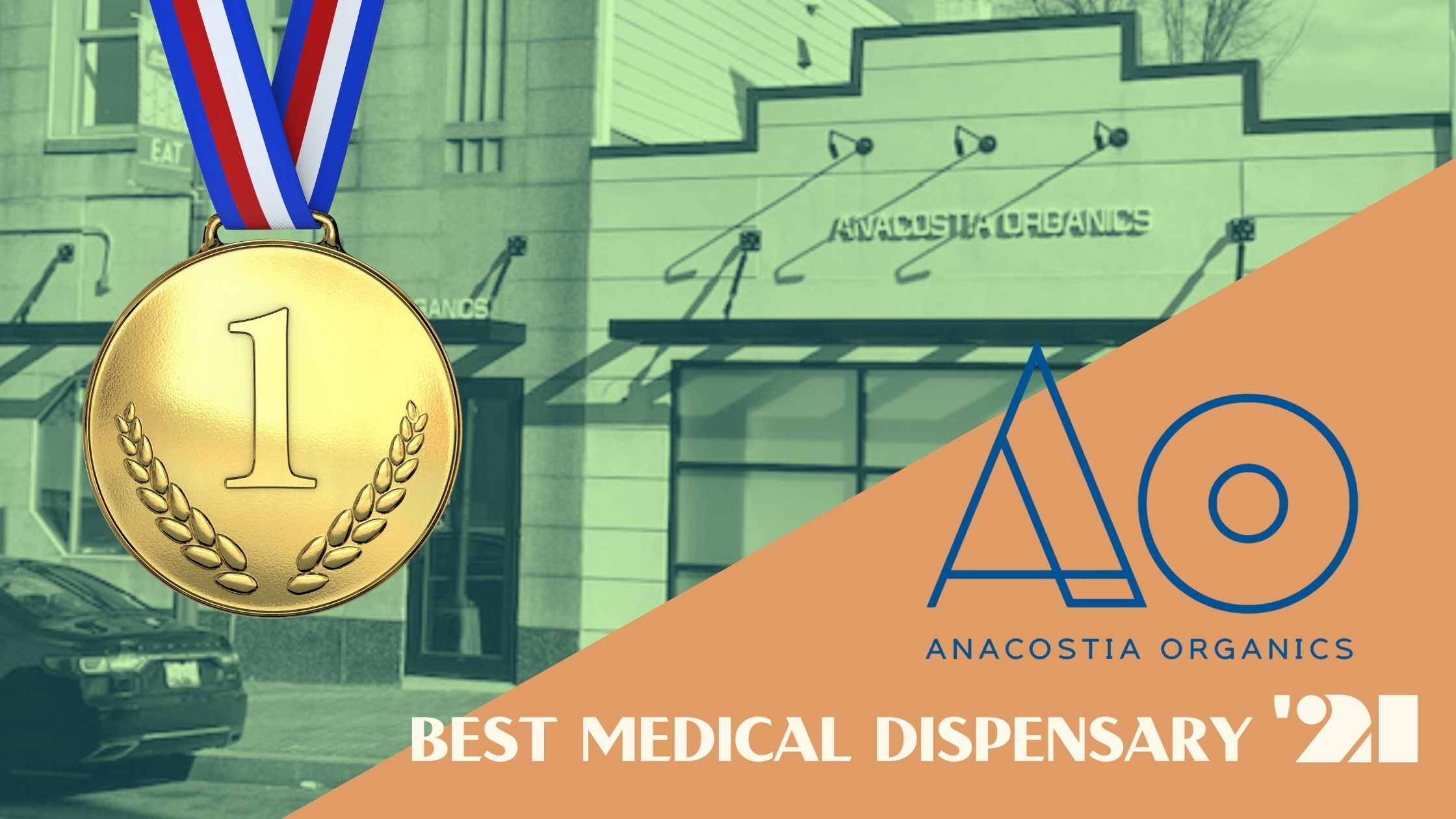 It was a close competition for all three places on our Best Medical Marijuana
Dispensary list, but we're feeling confident in our decision to put Anacostia Organics at the
top of it. When they opened in February 2019, they were the first and only dispensary operating east of the Anacostia River, serving the (roughly) 25% of the city's card-holding medical marijuana patients that reside in Wards 7 and 8. They also have home delivery to every other Ward!
Anacostia Organics is one of the few DC dispensaries open seven days a week and the only one where we have consistently found flowers and rosins by Strane. Their outstanding customer service bears mention, as well. Every single time I've visited, I have always been greeted and assisted by kind, patient, helpful people, from security to checkout. D.C.'s latecomer is crushing it in every category, and we look forward to watching them grow! That's a weed pun. I'm allowed one per list, it's in my contract.

We simply cannot talk about the best DC dispensaries without including Takoma Wellness Center. Established by Stephanie Khan and her husband Rabbi Jeffrey Khan when the city legalized medical marijuana back in 2013, Takoma Wellness has gone from being pot pioneers to a flagship family-run dispensary here in the District. Located at the very top of the map and damn near in Maryland, getting to Takoma Wellness is actually a breeze— the Metro's Red Line will drop you off at the Takoma Station literally around the corner from the dispensary. If you're driving, this is the only dispensary that has its own (free) parking lot.
Takoma Wellness Center's cannabis flower menu is consistently the largest you will find in town, and they're one of the few dispensaries that displays their flower for you to view prior to purchase. Owned and operated by DC natives that love their community, you'd be hard pressed to find a better customer service experience.

Located in Ward 1 in Washington and at Number 3 on our list is Capital City Care. Right in the
center of the Diamond, this is the easiest dispensary to get to coming from almost any given point on the map. They always have the latest drops from local cultivators, plus a few neat items you won't find elsewhere. Their patient incentives are hands down the best you'll find among the DC medical dispensaries and they have kickass deals on top of that. You guys ever played Plink-O for points? It's dope!
Parking near Capital City Care can be a bit tricky, but if you take the Metro, the Green Line drops you right across the street from Capital City Care, and the 92 bus stop drops you off a block away at 13th & U Street.
Medical Dispensary Honorable Mention
Washingtonians and visiting medical patients from out-of-state and U.S. territories are blessed with a vibrant market consisting of seven great dispensaries, each worth visiting and with their own special qualities. That said, the one that stands out to us is National Holistic Healing Center (NHHC). Their founder, Dr. Chanda Macias, has established herself as a strong presence in DC as a steadfast advocate for medical cannabis, especially black and women representation in ownership. Her dispensary has a fantastic location just north of Dupont Circle staffed by informed, professional representatives to help you decide which products from their excellent selection of medical marijuana and smoking accessories will work best for you. NHHC is a true credit to the city's MMJ program!
Best Medical Cultivator
Alternative Solutions is the District's all-star cultivator and a master of the classics. AltSol's Jack Herer is some of the hottest fire I have ever seen. Their Chemdawg is nearly as impressive. They even revived a classic landrace sativa, Panama Red, and both harvests flew off dispensary shelves! If it's "morning flower" you're after, allow us to introduce Alternative Solutions' Lemon Skunk! The pungent aroma is an absolute duel between that quintessential skunkiness we all love and an intense citrusy zest. This terpy delight carries through to the taste when smoked and is a great way to fire yourself up for whatever kind of day awaits.
This amazing cultivator has also put out some unique strains, and their cultivation team, led by Nolan & Luke Jenkins, prides itself on their pheno-hunting when seeking the perfect plants for AltSol's novel cultivars. In 2021, Alt Sol brought us Fog Jam (Blackwater OG x Mai Tai Jelly), Tiger Rose (Blood Orange x Topanga Zkittelz), and Viper Cookies (Girl Scout Cookies x Viper) among their offerings. For those of you looking for high THC strains, Fog Jam and Viper Cookies both consistently test between 29-31% across successive batches.
District Cannabis is to DC medical dispensary edibles what AltSol has been to flower. Carrying the town on their backs, this cultivator has kept shelves stocked with gummies, chocolates, capsules, and lozenges. We appreciate them for stepping into the treacherous kitchen space (we're talking D.C. regulatory nonsense as much as we are the perils of hot and sharp things flying about). They also make some excellent RSO products.
In my opinion, District Cannabis has produced some of the most medically beneficial strains of flower, too. Let's start with their Gelato Cake, which consistently tests between 28-31% THC. This fruity, floral, frosty flower is exactly what I find myself sinking into after dinner. For people with serious pain management issues, insomnia, and those looking to relieve daily stress (looking at you, everyone), this is your strain. District Cannabis' Charlotte's Web x Harle Tsu is a 1% THC: 21% CBD flower great for folks with chronic gastro-intestinal issues, severe pain, inflammation and even seizures. Their other two "indica-dominant" flagship flowers, Cherry Chem and Deep Line Alchemy, are both impressive in their own rights and regularly test around 30% THC. If you've got the impression that District Cannabis wants us all to be sacked out on the couch praying FX will host another top-to-bottom Simpsons marathon, we should mention that they also grow a nice, peppy Sour Diesel.
Liberty Cannabis, formerly known as Holistic Remedies, has come a long way to become DC's foremost purveyor of medical concentrates. Their hash, kief, and rosin jars fill the void for patients in need of greater potency than flower can provide alone. Liberty's rosin, in particular, has excellent consistency, incredible aroma and flavor, and pleasant highs. Some batches have come out like soft milk chocolate on the verge of melting but still firm and flaky enough to handle. Incredible stuff, their Green Crack (tested at 74% THC) and Salmon River OG rosins especially.
The flower that they've put out under their brand Strane has also hit the spot, and we get just a little bit giddy whenever one of their flower products sneaks back onto the odd Rx menu around town. We've found some pretty nice 3.5g black tins of Strane's flower around town, and hope to see much more in the near future (not like we're jealous of Maryland or anything but some of us in this city know how to use Bing and might have checked out a menu or two just over the border once or twice ya know…)